Business success contains the seeds of its own destruction. The more Successful you are, the more people want a chunk of your business and then another chunk and then another until there is nothing ? Andrew S. Grove, Only the Paranoid Survive
So who should LiveNation be paranoid about? Who are its competitors?
As we saw the last post, LiveNation can be thought of a vertically integrated full-service live entertainment company. A comparable public competitor is the Madison Square Garden Company (MSG). They also describe themselves as the premier live entertainment company. Via their 10k
The Madison Square Garden Company is a leader in live experiences comprised of celebrated venues, legendary sports teams, exclusive entertainment productions, and other entertainment assets which include dining and nightlife venues and music festivals. Utilizing our powerful assets, brands and live event expertise, the Company delivers premium and unique experiences that set the standard for excellence and innovation while forging deep connections with diverse and passionate audiences.
They manage their business through two operating segments. MSG Sports which includes professional sports franchises, e-sports leagues and everything that is related to producing live sporting events. MSG Entertainment which includes the Company's live entertainment events — including concerts, family shows, performing arts and special events. Similar to LiveNation, MSG has owns or has controlling events in venues such as Madison Square Garden and Radio City Hall in NYC.
However, from a scale perspective, they are 7 times smaller than LiveNation (MSG Rev: ~$1.5B, LYV Rev: ~10B). LiveNation has the key scale advantage due to its access to venues (237 v/s 7 for MSG). LiveNation clearly does not need to be super paranoid about MSG as long as they keep on improving/ maintaining their venue scale advantage.
What about the upstarts? Are there any disruptors on the horizon?
Eventbrite (EB) is the new ticketing platform that recently went public and has positioned itself as the tech disruptor. Via its 10k
We founded Eventbrite to bring the world together through live experiences. We believe live experiences are fundamental to fulfilling a human desire to connect. Our company serves event creators—the people who bring others together to share their passions, artistry, and causes through live experiences—and we empower their success.

We built a powerful, broad technology platform to enable creators to solve the challenges associated with creating live experiences. Our platform integrates components needed to seamlessly plan, promote and produce live events, thereby allowing creators to reduce friction and costs, increase reach and drive ticket sales. By reducing risk and complexity, we allow creators to focus their energy on producing compelling and successful events.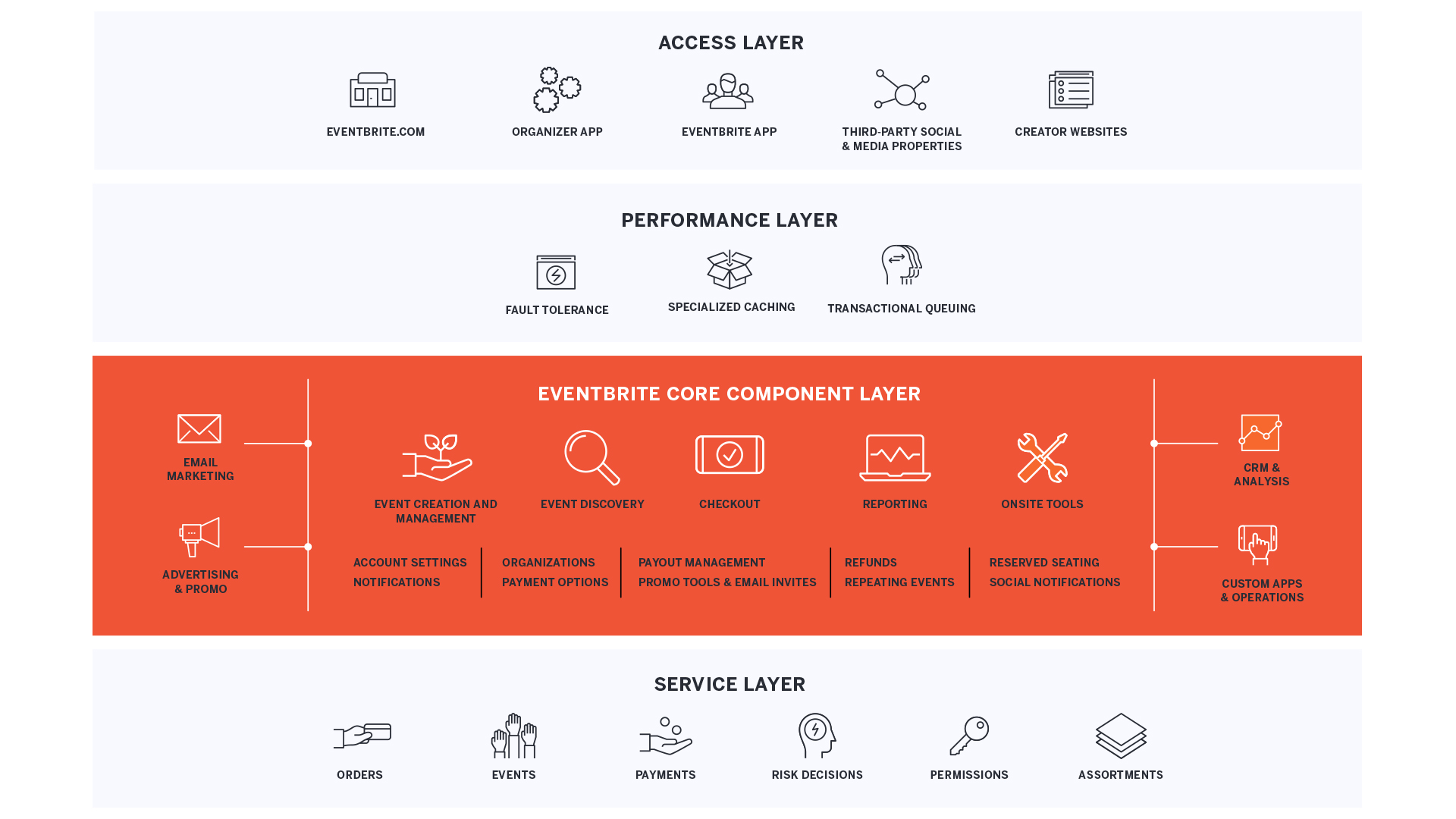 A quick look at numbers
From a sheer scale perspective, LiveNation's ticketing business ( ~$1.5B rev) is 5 times larger than Eventbrite (~ $291M rev). A deep dive into the actual ticket numbers also shows the scale of Ticketmaster.

Ticketmaster sells 1.8X more tickets than Eventbrite and a higher percentage of them are fee-paying tickets.
But are they playing in the same market?
On the surface, it might feel like that Eventbrite and LiveNation are serving the same market, there is a nuance to the target markets they both serve. LiveNation's target market is the mega-artist, mega venue, mega show, full-service market while Eventbrite is going after the small to medium size events that are put on by small and medium-size creators. A good way to visualize is as below,

A detour into sources of competitive advantage aka moats
Another mental model to think about the live event business is to think of it as a marketplace that is connecting artists with fans. In marketplace parlance, artists are the supply side and fans are the demand side. The number of tickets sold is a proxy to the number of fans. Using this mental model as a base framework, the advantages that each company has on the two sides of the marketplace are summarized below,

LiveNation's moat is its enhanced access to the supply side via controlling the venue.
What the paranoid case?
So, If I was a paranoid person at LiveNation I would start getting worried if Eventbrite started getting exclusive access to venues or started to buy a controlling interest in venues. This is very similar to the Netflix strategy i.e
Aggregate demand by building a great product using other people's supply (content)
Get into the content space by building my own content so that I fully control the supply
Be completely vertically integrated
This is the same vertical integration strategy that LiveNation has executed on and been successful. Similarly, if I were Eventbrite I would be super paranoid if LiveNation started making a play into its core target market of smaller do-it-yourself events. LiveNation could just buy a competitor or EventBrite itself :). It could decide to go for it on its own and launch a technology-enabled self serve option.

What are the chances?
I wish I knew the answer to that question :), it would make a great pairs trade. For Eventbrite to execute on moving into the venue case, it needs a ton of cash, cash it does not have. Eventbrite is a money-losing business and its stock is getting pounded. One can make the argument that it is still early days and Eventbrite just needs to execute on its core and grow revenue. Large revenue growth will cause the stock to recover and they can then raise debt to execute on the venue strategy. If you see the chart below, this looks tough!

LiveNation on the other hand probably suffers from the classic innovator's dilemma. Can it focus on two fronts? Keep the large event business humming and also start to attack the smaller event market – a market that requires a new set of skills. Venue scale is the trick they know, can you teach an old dog new tricks?
What do you think? Respond in the comments.